Join a team of high school students dedicated to furthering their STEM skills in the First Robotics Competition. With the 2023 season over, we will be looking for people with a passion for engineering, whether mechanical, electronic, media management or software to join us for the 2024 season starting in November this year.
If you have any questions regarding the program or the team contact us on enquiries@thedropbears.org.au 
Registration For The 2024 Season Is Now Closed!
We have closed our registration for the 2024 season. Please check back here in August-September 2024 to join us for the 2025 season.
Build Season started on 8 January 2023 with the kick off meeting in which the team reviewed the game for 2023
8 weeks of intensive planning, design, prototyping, building and programming followed, ending with a great robot
Australian Southern Cross Regional competition was in Wollongong at the WIN Entertainment centre. It was comprised of three days:

Friday March 10: Practice day
Saturday March 11: Opening, Qualifying
Sunday March 12: Qualifying, Playoffs, Closing Ceremony and Awards

With our alliance of Koalified (6996) and Embers (7583), we did extremely well and placed 3rd overall.
The team also competed in the Dual Down Under (DDU) and was part of the winning alliance with Barker Redbacks (4613) and ARTEMIS (5876).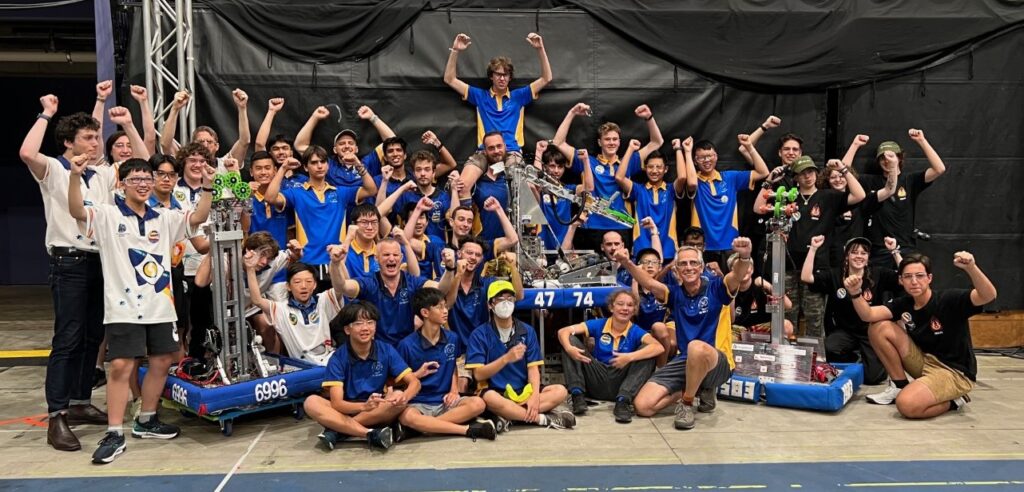 Design a robot and all included modules using online parametric 3D modelling platform Onshape
Write code in Python allow the robot to complete all necessary tasks, including autonomous operation
Use engineering skills to construct and fabricate a robot that meets functional requirements
Design and manufacture a robot within a 6 to 8 weeks time frame
Compete against over 3000 teams worldwide in both regional and international locations
Engage and recruit high school students from across the Sydney region and manage team social media and sponsorship
"We'd love for you to join us on this journey."
"A founding member of the team Ian has been an enthusiastic Drop Bear for almost a decade. Now a professional working in robotics he is excited to give back as a mentor to the next generation of students."
"After 6 years of committed, passionate and successful leadership James has handed the role of head mentor over. I am proud to have been with the team for the last 7 years and look forward to guide and mentor the team into the future at The University of Sydney."
"The University of Sydney and The Australian Centre for Field Robotics is proud to have hosted The Drop Bears for the last 7 years. It's also personally gratifying to help students discover their passion for STEM subjects, and apply their passion in a way that goes beyond what they could do at school."